Company Profile
Below on the map illustrations you will see the locations of our four manufacturing facilities in China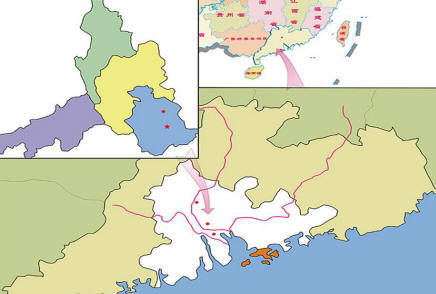 As you can see, all four manufacturing facilities are in close proximity to one another.
We manufacture a variety of metal tube. Our metal parts manufacturing plants capabilities range from tool design die casting, processing and packaging. And we easily accept custom design work for special applications In the years from 1983 to 1988 the company averaged shipments to the USA of 300 to 500 large (40 foot) containers loaded with metal tube futon beds and steel tube bed frames. Our customers were obviously pleased with our quality! Since that time we have added injection molded and blow molded products of many varieties.
Since 1998 with a sales emphasis of metal and plastic parts and metal furniture, we pride ourselves in our design, engineering and product precision. Our quality control and strict manufacturing procedures, along with fully and semi-automatic CNC machinery ensures this. The sophisticated machinery allows us production economies without sacrificing quality in any way. However we donಥst on this high quality level, we continually upgrade our employee skills, the physical facilities and the best equipment and machines available (from Germany, Japan and Taiwan).
. Our senior engineering, QC and production team consists of 26 talented and experienced individuals. The purchasing group supporting them numbers 22 equally experienced individuals.
We believe our comprehensive range of metal parts with competitive prices is second to none in industry. Our systems are backed up by an enterprise-wide management system. This overall control alone will serve our customers well.
The flow of our current jobs is computer controlled so that every aspect status from the initiation of it through engineering, manufacturing and even shipping to our customers, is tightly controlled and available to customers at any time. Our International business is continuing to grow dramatically and we believe that this is because of our high quality products reputation. How proud we are that this is taking place!
Our principal management team consists of our Chairman, two Vice Chairmen, one Managing Director, and four Directors. They join our 800 skilled employees every day in striving for perfection, faith of honesty, responsibility and above all customer satisfaction. Our ultimate goal is long term business development and relationships.
We at TIA Industries understand the word relationship and we strive to cement enduring relationships by building mutual Alliances.
TIA Industries was strategically established located in Cleveland, as a global platform to attune to the global market dynamism in America for TIA Industries to respond rapidly and effectively to industry changes, customer demands and market volatility.
A thorough understanding of the fast-changing consumer behavior, new market segments and product opportunities along with sensitivity to changing customer needs, form the core of TIA Industries" strategy and philosophy.
At TIA Industries, we essentially have a completely customer-driven approach. TIA Industries ensures convenient access to the TIA Industries' products in North America.